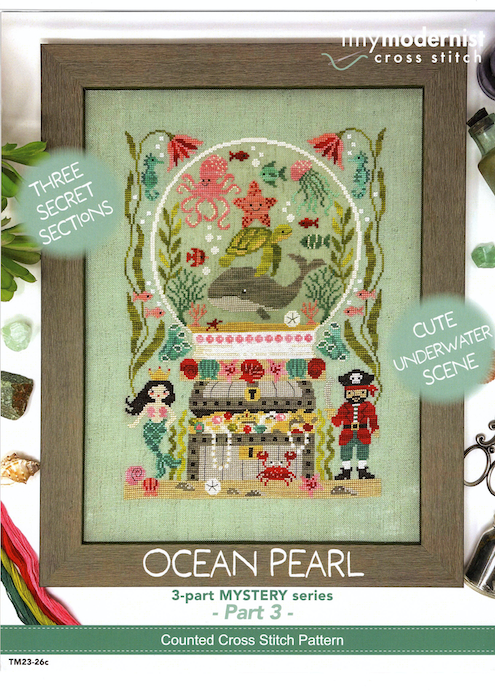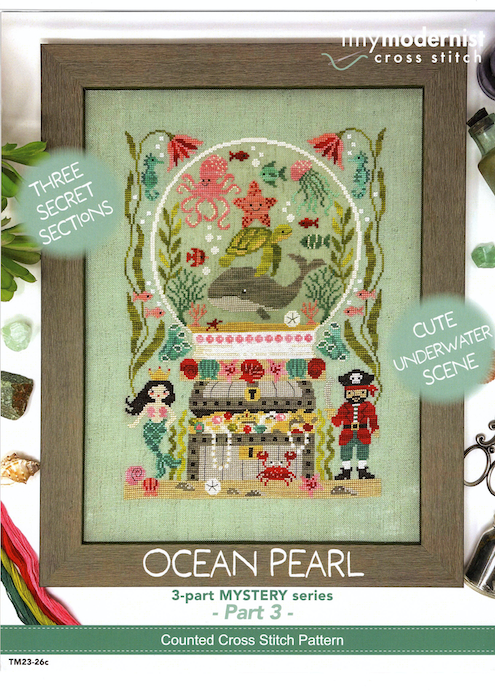 Ocean Pearl (2023 Summer Stitch-A-Long #3) - Tiny Modernist - Cross Stitch Pattern
Sale price
$6.00
Regular price
$0.00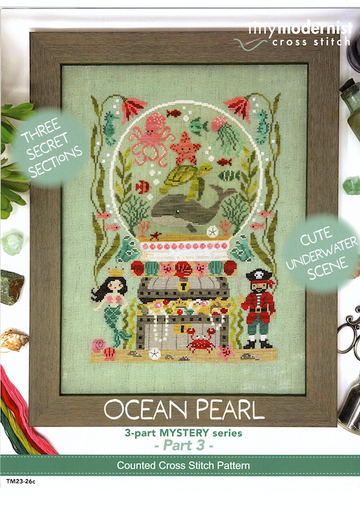 Ocean Pearl (2023 Summer Stitch-A-Long #3) - Tiny Modernist - Cross Stitch Pattern
Sale price
$6.00
Regular price
$0.00
Product description
Create A Kit
Shipping & Returns
This is for Part 3 only.
Welcome to the Tiny Modernist 2023 Summer Stitch-A-Long! This 3-Part Series features an underwater scene with sea creatures, fish, coral, shells, treasure, mermaid and more.

Release Schedule:
Part 1: April 1st, 2023
Part 2: May 1st, 2023

Part 3: June 1st, 2023
Recommended Fabric: 
Wichelt Linen 28ct - Stoney Point

Recommended Floss: DMC - Blanc, 739, 3822, 352, 349, 3706, 959, 3814, 166, 580 (2), 437, 648, 645 (2), & 844.


**You may also choose to use a few (or all) of the specialty Classic Colorworks (CCT) and Weeks Dye Works (WDW) floss instead of DMC (the model is stitched using  CCT & WDW floss):

1. CCT-222 Honeycomb instead of DMC3822 (1x 5yds skeins)

2. WDW 2249 Sockeye instead of DMC352 (1x 5yds skeins)

3. CCT-136 Ruby Slippers instead of DMC349 (2x 5yds skeins)

4. CCT-026 Ripe Melon instead of DMC3706 (2x 5yds skeins)

5. WDW 2139 Sea Glass instead of DMC959 (1x 5yds skeins)

6. WDW 2152 Kentucky Bluegrass instead of DMC3814 (2x 5yds skeins)

7. WDW 2207 Pepperoncini instead of DMC166 (1x 5yds skeins)

8. WDW 2201 Moss instead of DMC580 (3x 5yds skeins)

9. WDW 1124 Sandcastle instead of DMC437(2x 5yds skeins)

10. WDW 1302 Pelican Gray instead of DMC645 (3x 5yds skeins)

11. CCT-004 Black Coffee instead of DMC844 (2x 5yds skeins)


Note: You will still need to use DMC Blanc, 739, and 648 if you choose to use fancy floss.


Stitch Count: 129W x 180H

We ship all packages with tracking via USPS or UPS. Shipping cost is calculated by weight. For more information on shipping, check out our shipping policies page.
Due to copyright issues, we cannot accept returns for cross stitch patterns. If we mistakenly sent you the wrong pattern, please contact us within 3 days of receipt and we will send you a return slip and correct your order.
For other items, please contact us within 3 days of receipt to initiate a return. Get more information on our return policy page.